Dear Customers,
Thanks for your trust and support all the time.
Meloaudio used to focus on guitar tuner and commander, those are gone with the wind.
We know that our music products do help music lovers in the past few years, and we're still striving for this goal.
There are ups and downs in a competitive market, so do we! As the market has been changed, now our company focuses on open ear headphones, which is a air conduction headphones with high-tech.
This kind of headphones works very well with guitar players and music lovers, which we highly recommend to you.
To show our sincerity, we'd like to give our old players an exclusive bonus, that's a 25% discount, Code: appreciate to buy our latest open ear headphones.
Welcome to our community: www.meloaudio.com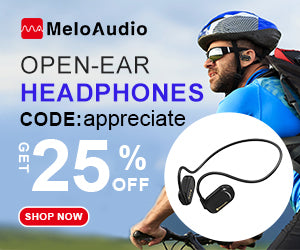 Thanks
Meloaudio Team